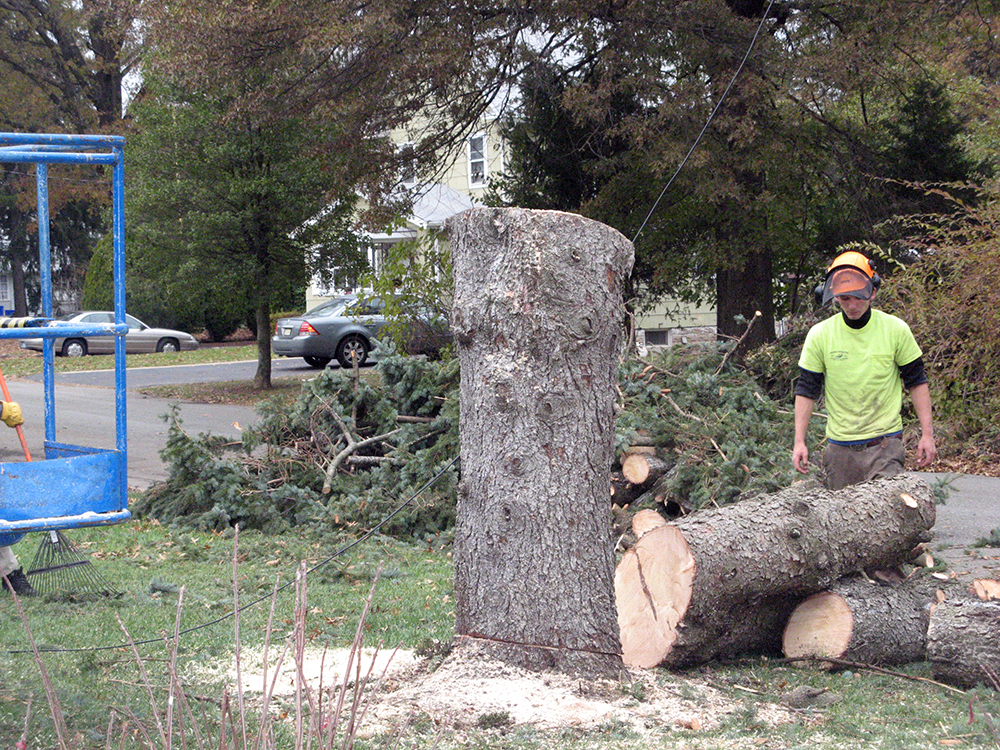 Removal
Unfortunately in some cases a complete tree removal is necessary. BTSG has a highly skilled staff that uses the latest techniques in rigging to ensure that the tree is dismantled in a safe yet timely manner. Tree debris is then removed offsite for proper disposal. We take extra precautions to ensure your properties landscape is not disturbed. Our goal is to leave your property looking better than it was before we arrived.
Pruning
A pruned tree is a happy tree! Annual tree maintenance enhances your trees health as well as promotes a longer lifespan. Pruning allows us to remove dead problematic limbs that can be hazardous to those taking part in activities beneath the tree. Pruning unneeded limbs from a tree lightens its canopies weight leaving it less susceptible to fall over in storm conditions. In addition, a properly pruned tree will cosmetically complement its surrounding landscape better than an unpruned tree.
Stump Grinding
Not only is that stump an eye sore, but it can also attract unwanted creatures to your property. A rotting stump is a desired home for Termites, Carpenter Ants, Bees and small Rodents. These species can not only be harmful to you but your landscape as well. Stump Grinding allows us to grind an existing stump into fine mulch. This mulch can be left in place or removed altogether. Our low impact 4×4 all terrain stump grinder can access any stump in any location. Big or small our Grinder can handle it!
Land Clearing
No removal project is too large for us to handle! Here at BTSG we specializes in multi-acre land clearing projects. Our heavy equipment gives us an advantage on our competitors. We can turn thick wooded property into a cleared ready to build plot of land. We will take them down fast and easy!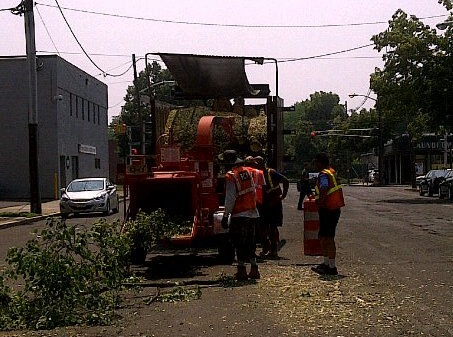 Storm Damage
In almost all cases a storm damaged tree threatens everyone and everything in its general vicinity. At Brian's Tree Service Group we are on call 24 hours a day 7 days a week to aid in storm cleanup. Our equipment allows us to lift trees, limbs and other storm debris off of any structure without causing any further damage. These damaged trees become a major liability, therefore we recommend leaving it for our trained professionals.
Cabling and Bracing
Over time Multi-Trunk trees may lose their structural integrity usually caused by disease, insects, or severe weather conditions. In a case like this, we recommend adding some type of structural support. Cabling and bracing is a low cost option that is an alternative to tree removal. In any case, we will do all in our power to save the life of the tree.
Top Soil, Mulch and Seasoned Wood Delivery
Brian's Tree Service Group goes way beyond dealing with your tree service needs. We offer delivery and installation of sifted top soil as well as a wide variety of colored mulches. Sifted top soil is a great growing medium that allows your plants to thrive and properly grow. Mulch on the other hand cosmetically looks great and also holds moisture into your plant beds. In time this mulch will decompose leaving behind vital nutrients imperative for your surrounding vegetation to flourish.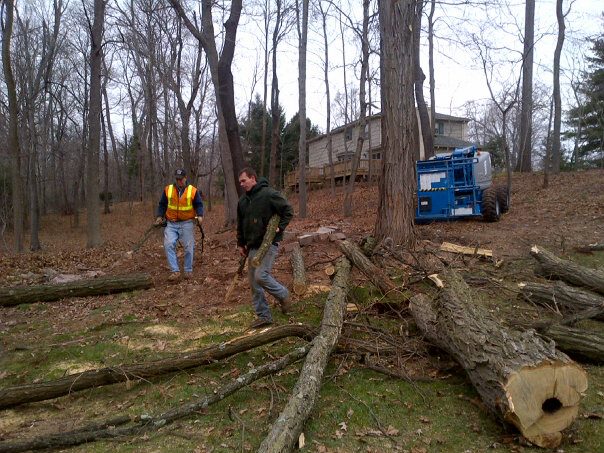 We are now offering Seasoned Fire Wood for pickup or delivery right to your door!
Available By:
Pallet Size
¼ Cord
½ Cord
Full Cord
Snow Removal
In addition to our tree service capabilities BTSG offers a wide variety of snow removal services. All of our vehicles are equipped with heavy duty front end plows ranging from 8ft to 13ft. Our trucks are also fitted with salters/sanders ranging from tailgate size to 2 yard and 4 yard hopper spreaders. Our heavy snow moving equipment includes multiple skid steers, front end loaders, backhoes and road graders capable of moving mountain size piles of snow. Let us clear the way!
Now Offering Power Washing Services!